PAN ARAB Highway /Taanayel – Masnaa Section / Lot B
Country: Lebanon
Location within country: Bekaa
Client: Council for Development and Reconstruction (CDR)
Financed by: Leb. Gov. (GOL) & European Investment Bank (EIB)
Consultant: Khatib & Alami Consolidated Engineering Co.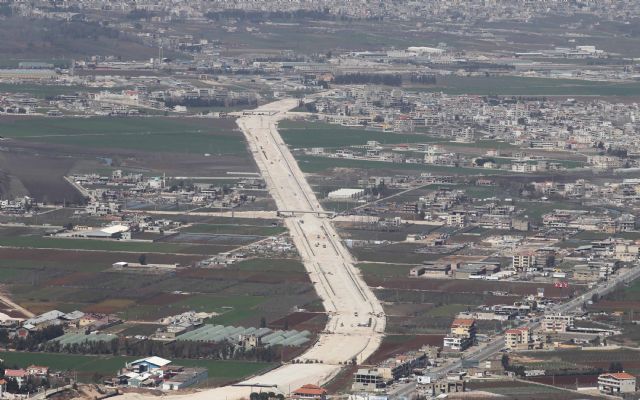 Scope of Work
The "PAN ARAB Highway/Taanayel–Masnaa Section/Lot B" lies in the Bekaa region, where it starts at the temporary Taanayel roundabout which has to be worked under "Lot A" and continues up to the Customs House in Masnaa at the Lebanese Syrian border, passing through El Marj, Bar Elias, Anjar and Majdal Anjar.
The highway works include but are not limited to the following:
A 10.7 km new highway with a double carriage way with at, including 2 traffic lanes and 1 paved shoulder in each direction with provision for future widening at the central reservation to become 3 traffic lanes in each direction.
The carriageway platform is edged by 8m wide two way service roads with a total length of 20.5 Km.
An interchange of 63 m length with 2 roundabouts on the crossing road at Barr Elias, with a service area.
An interchange at Aanjar with a single underpass of 58 m length.
4 underpasses at Taanayel of length 110m at the National Road crossing and at El Marej crossing with length of 55m and at Rashaya and Majdel Anjar area.
An overpass of 57 m length at Masnaa border gate.
2 Pedestrian bridges and 2 animal crossings underpasses.
Box culverts at crossings of Berdawni, Litani and Ghzaiel rivers.
28 hydraulic structures frames (box culvert type).
8 crossings consisting of ø 1200 mm pipe or Structures in reinforced concrete frames of standard sections.
Provision of square and rectangular ditches along the highway and service roads.
Concrete storm water collector (2 cells) with a length of 1160m.
About 4500 m2 of Reinforced Earth Walls and about 2000 m2 of retaining structures.
Roads relocation, traffic deviation and management during construction of total length of about 3000 m.
Lighting system.
Signing and Road marking.

Notification Order: 24/01/2007
Completion: 01/12/2014