Potable Water Provision from Ain El Zarka Spring to Supply Villages in West Bekaa & South Lebanon
Country: Lebanon
Location within country: Western Bekaa and South Lebanon
Client: Council for the South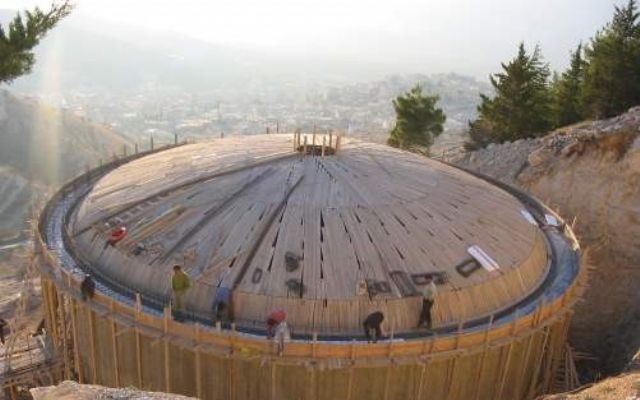 Scope of Work
The Works consist in the construction of:
A. Water Works:

Water intake structure on the "Ain El Zarka" Spring including the installation of a 2km long, 32 inches diameter gravity steel treated pipeline for the supply of the Ain El Zarka" central pumping station with potable water.
The "Ain El Zarka" central pumping station (Q=800 l/s, H=230 m) consisting of 4 vertical submersible 3000 KVA mid tension double shrouded radial impeller pumps each of a Power of 770 KW.
The "Sahel Mashghara" main pumping station (Q=800 l/s, H=425m) consisting of 19 vertical multistage centrifugal pump set each of a Power of 315 KW.
The secondary "Baaloul" pump station (Q=240 l/s, H=260 m) equipped with 9 submersible multistage centrifugal pump set each of a Power of 320 KW.
Six (6) Concrete ground water reservoirs: (1 rectangular x 2500m3, 1 rectangular x 2000 m3, 3 circular x 2000 m3, 1 circular x 1000m3).
Concrete Water Tower: 1 circular x 500 m3.
Pipe Works: 265 km of main, secondary and distribution treated Steel / GRP / DI potable water pumping lines of diameters ranging between 32 inches and 4 inches.
Buildings: Pump station Administrative and technical buildings of 2000 m2.
Automated monitoring, control and operation system, PLC, for the whole network.
Water treatment and chlorination units of capacity 400 l/s.
Waste water treatment units for Administrative and technical buildings.
Surge tanks No.6.
Lightning protection system No.6.

B. Electrical Works:

Access Roads needed for the works.
Connection of a 66 KV cable to the "Sahel Mashghara" Power Transforming Station.
Construction of a Power Transforming Station of 16 MVA.
Administrative and Technical buildings (Operation and Control).
Power Transformers of 8 MVA, 5MVA, 1000 KVA, 500 KVA and 250 KVA.
High Tension Power towers (33m high) connecting the "Awali-Markaba" Power Transmission Cable Line to the "Sahel Mashghara" Transforming Station.
Power Poles and Cables of 24 KV to supply "Ain El Zarka" Central Pumping Station.
Power Supply Station in "Ain El Zarka" to feed the Medium Tention pumps.
Power Transforming Station in "Baaloul" to supply with current the existing pumping station; and connecting it to the main Power Transmission Cable of "Jeb Jennin-Al Karaoun".
Power Cables of various sizes for the different stations.
All Electrical Accessories such as Switches, Circuit Breakers, Contractors, Insulators, and Pannel Boards.
Electric Power Generators of 1500 KVA.
Provision of the required and complete Technical Team.
Earthing system complete for each station.
Water pipe works for some villages within the project region.
Water pipes connections to main reservoires.
Asphalting Roads within the region of works (200,000 m2).
Notification Order: No. 7517 02/09/2004